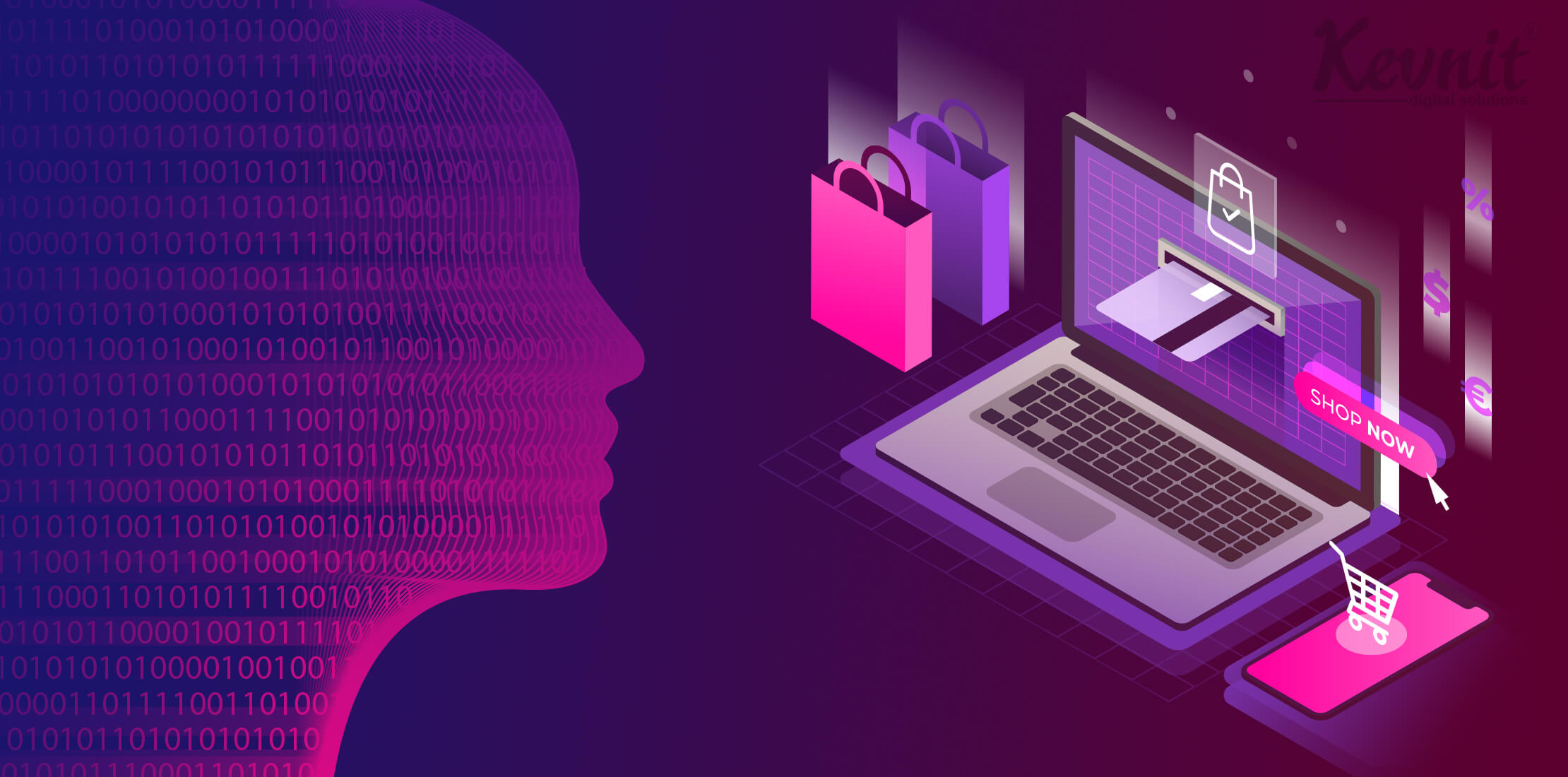 How AI is Transforming E-Commerce
The Impact Of AI Is More Evident Than Ever
Artificial Intelligence is being talked about more and more as time goes by. It is beginning to penetrate areas that were hitherto exclusive domains of human beings. To say AI is increasing its control over the world is an understatement. It is becoming more apparent that many jobs/tasks undertaken solely by human beings are now getting done faster, with greater accuracy, and above all, 24/7! The influence of AI is being felt especially in the eCommerce sector, where it's inclusion has helped many brands enhance their market standards.
What's Causing This Move Towards AI?
eCommerce is undergoing a rapid transformation. Success in eCommerce is growing more dependent on connecting with customers on a predictable, emotional level. Savvy eCommerce retailers are evolving and starting to realize that the only way to do this is by applying AI to their marketing strategies. The sheer abundance of product alternatives that they're able to offer their consumers, as a result, is astounding. This convenience and the superlative shopping experience is what's propelling people towards shopping online for all their needs.
Sales and marketing data plays a major role in the effective incorporation of AI into an eCommerce setup. Machine-learning algorithms (which form the backbone of any AI application), make use of such data to develop extraordinary automated capabilities, including the ability to –
see (machine vision),
read (natural language processing),
speak (natural language generation),
be creative (generative design), and much more.
In the coming years, the majority of all customer interactions will be facilitated by AI. Major eCommerce players including Alibaba, Rakuten, eBay, and Amazon, have already begun using Al in –
the detection of fake reviews,
to build and control chatbots,
to offer product recommendations, and
big data manipulation, amongst other things.
These companies are investing heavily in advancing their Data Mining, Natural Language Processing, and Machine Learning capabilities, which are the pillars of AI. In doing so, they have successfully managed to build advanced automated mechanisms that are learning how to perform routine manual tasks without any errors. This flawlessness is enabling them to concentrate the use of their resources more on a strategic level instead of getting bogged down by transactional errors.
The fact that eCommerce sales have tripled in less than seven years (as the graph below shows) is a clear indication of how successful this widespread integration of AI in the world of eCommerce, has proven to be.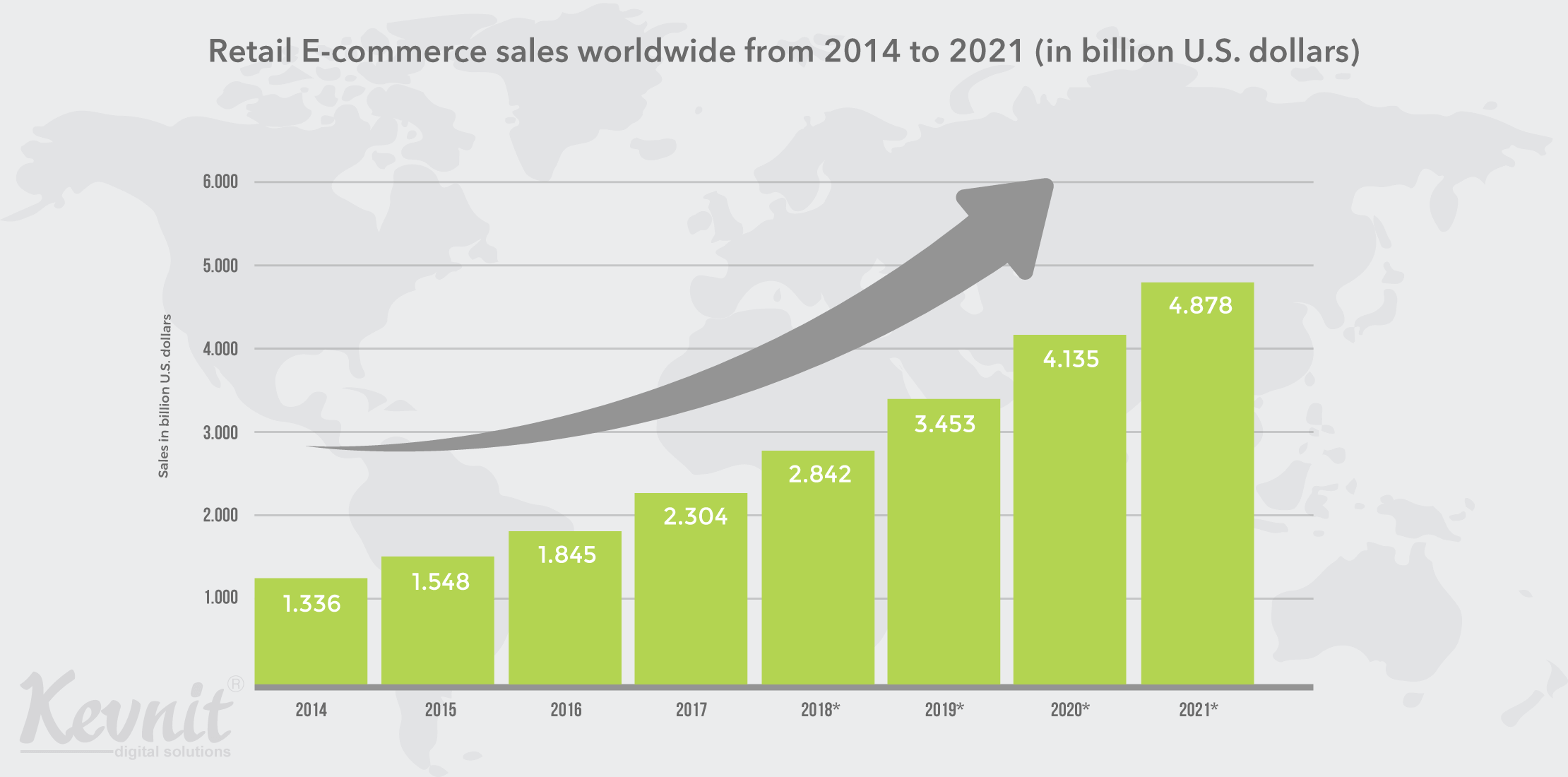 The Most Popular Applications of AI in eCommerce So Far
Customer-Centric Visual Search
AI has made it possible for eCommerce brands to put automated features in place that help find and match products relevant to their customers' needs. Shoppers are now being offered complementary products which serves in enhancing their shopping experience. Consumers today can take and upload a photo of their friend's new watch or shoes in their favorite eCommerce portal. With the help of AI, they can then find either entirely identical or similar products (depending on availability) with absolute ease. Amazon has a similar AI-based feature that allows its customers to point their cameras at products that they like. In a matter of seconds, they are shown a comprehensive list of all the identical products to shop from.
Refocusing On Potential Customers & Optimizing The Sales Process
Sales teams miss close to half of their marketing leads as there is no follow up, which means pre-qualified potential buyers who are interested in a product, are left in the lurch. Also, many teams get slowed down trying to deal with unmanageable customer data with which they can do very little or nothing. This is where AI becomes a real necessity. Nowadays, AI systems enable NLP and voice input, for instance, in Siri and Alexa, AI features make it possible for brands to automate their Customer Relationship Modules to answer customer queries, find resolutions to their problems, and even identify new sales opportunities.
A New Level Of Personalization
One of the biggest applications of AI involves the capability to analyze different touchpoints on how customers are interacting online – via mobile apps, through websites, email, etc. All the biggest eCommerce brands have AI engines that are constantly monitoring all their customers' devices and channels, to help in the creation of a universal customer view. This means that AI is able to assist eCommerce retailers in delivering seamless cross-platform user experiences. By analyzing patterns in consumer behavior and researching multiple data sets, AI helps sales teams send suitable messages (pitching the most relevant products) to customers at the right time, thereby creating more personalized experiences for their consumers.
Chatbots & Virtual Assistants
Chatbots help in automating order processes. Using Chatbots is an effective and low-cost way of providing 24/7 customer service and collecting valuable data as well as tracking behavior. Chatbots increase conversion rates by tailoring the online experience for the consumer. Amazon's Alexa is the most famous example of a chatbot. Virtual assistants such as Alexa impact customers' purchases and provide a creative opportunity for eCommerce retailers to boost their revenues.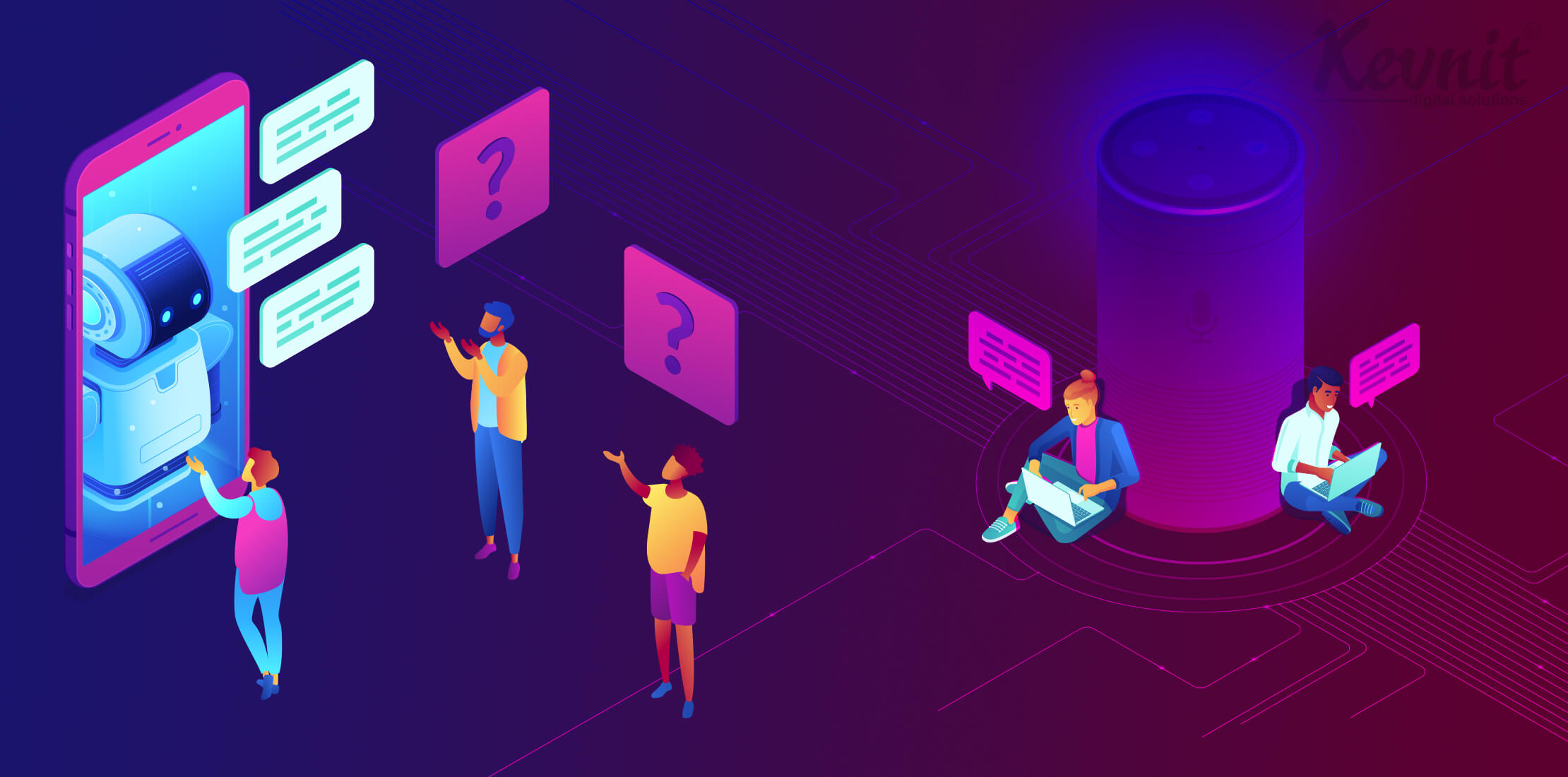 Unfortunately, fake or spurious reviews are a significant issue for online retailers and eCommerce shops. So, how does AI manage this problem? AI helps fight this menace by putting more emphasis on verified and helpful reviews. Amazon uses AI to combat fake product reviews as well as the inflation of its popular star rating system. Their AI mechanism focuses on the prominence and weight of purchase reviews given by verified customers and boosts them. AI also takes into account those reviews that are marked as helpful by other users.
Automation allows eCommerce retailers to prove customers precisely what they want as well as when they want it. When the eCommerce business starts growing, the number of repetitive tasks rises as well. Automation can take up all these tasks, including everything from publishing new products on multiple channels to scheduling sales and offering loyal customers discounts.
Seamless Inventory & Warehouse Management
The traditional manner of inventory management focuses entirely on maintaining current stock levels, while AI-enabled inventory management has to do with maintaining stocks based on data for sales over the previous years, sales trends, projected or anticipated changes in product demands, and potential supply-related issues.
AI is also changing the game when it comes to warehouse management. Unlike human employees, AI mechanisms help in storing and retrieving stocks 24×7 and immediately dispatch items following online orders.
AI-enabled email marketing helps sales teams send out marketing emails for products (or services) that interest their recipients the most. Apart from being able to read more than human beings in much shorter time spans, these automated email marketing tools make an intelligent user analysis based on responses and align with individual customer requirements.
How AI Is Revolutionizing Sales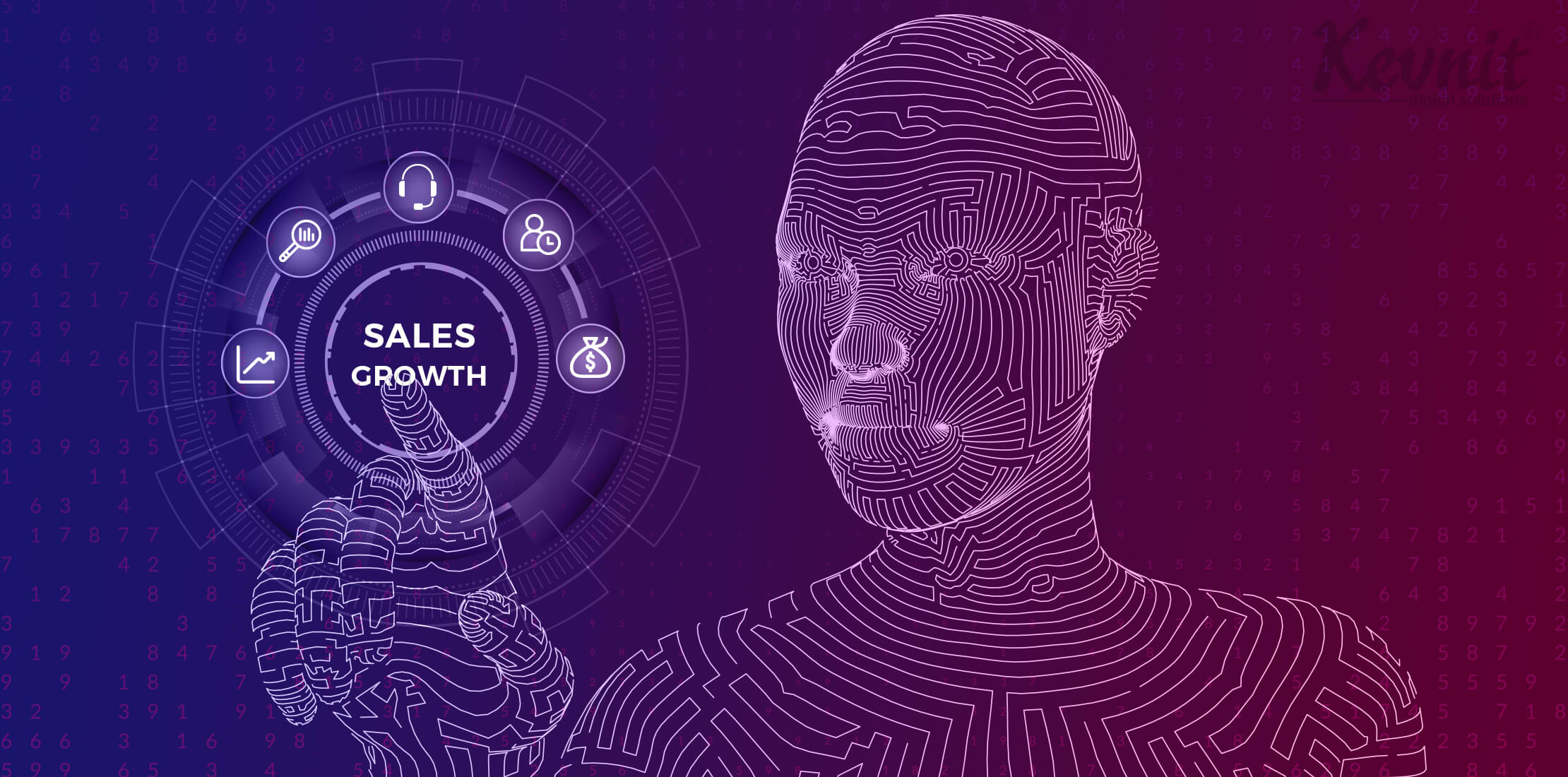 Empowering Customer Experience Through Predictive Intelligence
In the coming years, predictive intelligence will lead to triple-digit growth leaving sales reps to focus on delivering the best possible customer experience. This means that eCommerce sales will definitely increase manifold much earlier than expected.
The utilization of AI for sales has been incredibly helpful, reaping substantial business benefits. Business benefits included a 50% increase in the number of leads, shortening of call time (which reduces the lead process) by 60-70%, and eliminating revenue loss due to lost leads and deals by an estimated 40-60%. These figures were mostly untracked and, therefore, unknown until now. But with AI, every visit, every inquiry is registered and being traced. As a result, the right metrics are thrown up before every Sales Manager, helping them pursue lost leads and deals.
Maximizing The Efficiency Of Sales Teams
As much as 85% of sales-related tasks could become automated in the near future. This means a sales rep will spend less time capturing data and spend more time investing his/her true capabilities in the field, facilitating increased interactions with customers, delivering pitches, and closing deals. One of the bugbears of a Sales Rep is the amount of data he/she has to manually capture, feed, and transmit periodically to the boss for their evaluation. This activity robbed Sales Reps of their time, but not anymore. Sales and marketing data is automatically captured from various customer points, freeing Sales Reps from the mundane tasks of data collection and transmission.
To conclude, it suffices to say that the impact of AI on eCommerce has not been fully realized yet. If you're an online retailer who's considering implementing incorporating AI into your eCommerce operations, you'll want to align yourself with the right technology partner to help you do so. With close to a decade of cross-industry AI implementation experience, Kevnit will prove to be the growth driver that you always hoped for. We help our eCommerce clientele harness the full potential of AI through our team's mastery and command over Machine learning, Data Mining, Natural Language Processing, helping build innovative, customer-centric, profit-focused business applications. Along with visually stunning eCommerce websites , our eCommerce partners also enjoy sophisticated AI-based applications that assist in increasing traffic, propelling conversion rates, and creating fascinating customer experiences that compel customers to turn to them for all their shopping needs, time and again. Feel free to get in touch with us for deeper insights into what we're capable of.